This is my Jetta. It is a Platinum Grey 2004 GSL TDI sedan. However, it has been upgraded with almost every feature offered on the GLI and GLX Jetta models and the R32 Golf model. The page will eventually be a resource for anyone interested in performing these upgrades as well.

Click here to see a gallery of photographs.
Click here for info in the 4Motion project.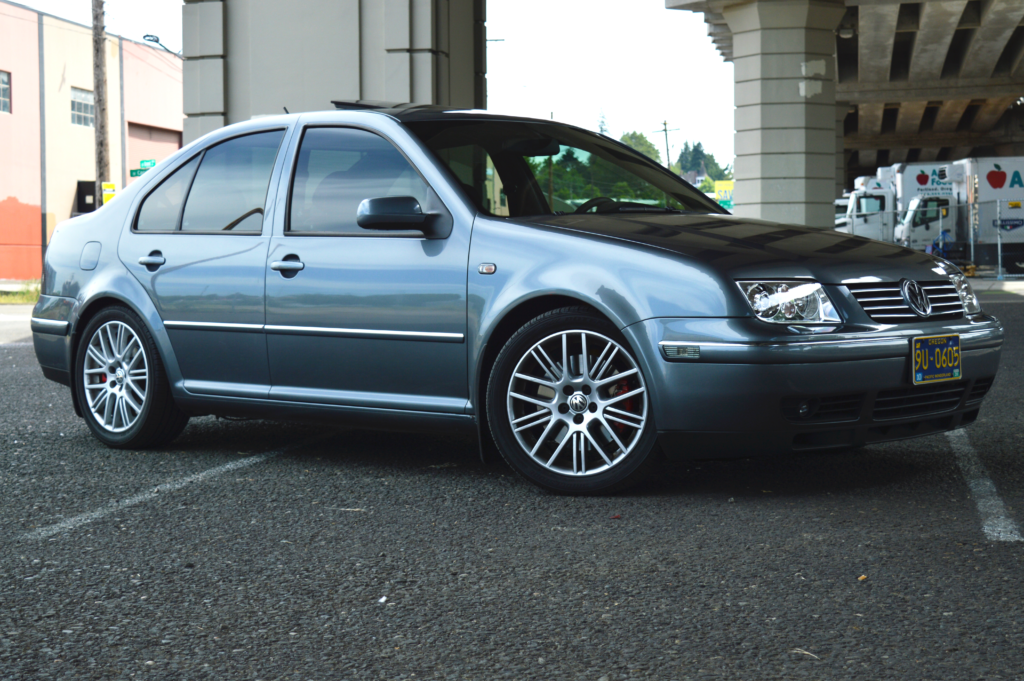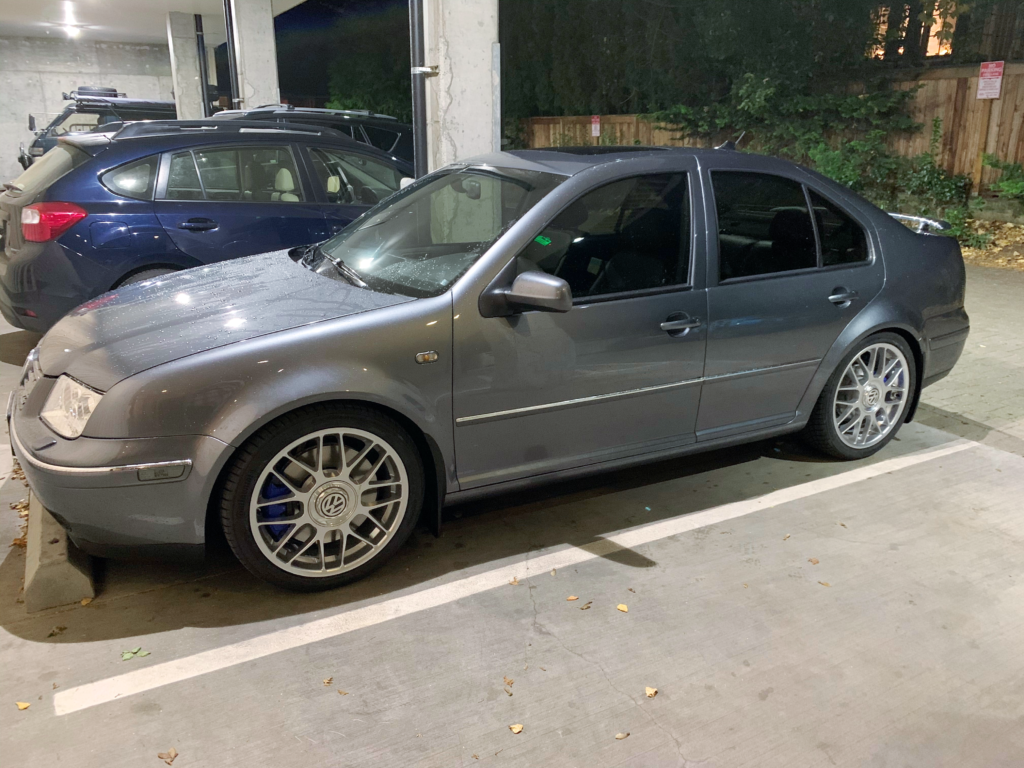 However, there are still a few things I am missing. If you might have any info on one of these upgrades, please email me at: pdx@manicsloth.com

STILL SEARCHING
===============
Lexan Headlight Covers
Aspherical Audi Auto-Dimming Sideview Mirror Glass (4B0857535E and 4B0857536G)
Audi S3 Coolant and Battery Engine Covers (8L9103928B and 8L9103927A)
R32 DSG Cold Weather Airbox (1J0129607CC)


COMPLETED MODIFICATIONS
=======================

(If a + separates two sub-features, that usually means each sub-feature has a different link associated with it.)
(More Info = Part numbers and my miscellaneous notes)

Headlight washer system – More Info
Hella fog light kit
OEM HID Xenon Headlights – More Info
Headlight Auto-leveling and Bulb Monitoring Systems
Power-folding + auto-dimming + heated + memory sideview mirrors + puddle lights
Auto-dimming rearview mirror
Rain-sensing wipers
Passat W8 dome light (available online at ClustersByLitke)
Illuminated AC vents
Climatronic + glovebox AC
Illuminated shifter + perforated leather boot
Euro "telephone" armrest + Audi red LED kit – More Info
Power, heated, memory front leather seats
Parking pass holder
Passenger door alarm LED
Chrome-tipped driver's door window, fuel door and trunk controls
Audi-style brushed aluminum sideview mirror switch
Brushed aluminum Euro light switch
Light Switch Modded with Amber LED for Rear Fog
ColorMFA cluster + extra wiring for boost, oil level/temperature and hood sensor (see ClustersByLitke for more info)
Sony CarPlay stereo
GLI perforated leather steering wheel and handbrake handle
Roadwire leather kit with perforated seat inserts
GLI brushed aluminum door handles, door levers center console
GLI black anthracite interior parts + black ceiling handles + sun visors
Rear roll-up sunshade
Interior motion sensors
Rear park distance control
Rear fog light
Hella charcoal Magic Colours taillights
Rear camera
Trunk-mounted warning triangle
GLI spoiler – More Info
Exor 17-inch wheels for rain/summer and BBS RC 18-inch wheels for summer
R32 brakes
Sylvania ZEVO LEDs in all interior and exterior light housings (except headlights)
OEM charcoal side markers
4Motion front valance
4Motion rear valance with parking sensor holes
Heavy duty OEM steel skid plate
VNT17 turbo
PowerPlus 1043 injectors (PD150-equivalent)
R32 DSG snorkel + airbox + MAF + turbo instake pipe
BuzzKen exhaust
Bilstein Sport suspension + GLI springs
MK5 AM/FM + SiriusXM + GPS antenna
Aero wipers
Oil pan level/temperature sensor + replacement oil pan
City Jetta vented front right wheel liner
GLI pedals + door pins
Komfortblinker
Touareg flashlight
OEM rubber trunk liner with dividers
Malone stage 4 tune
Handbrake return spring
Front and rear footwell lights
Brushed aluminum armrest latch
Lamp Check monitoring system
Dynamic Headlight Range Control/DHRC monitoring system (i.e. leveling motors)
Audi TT MK1 lower control arms + spindles + ball joints
Cookbots adapters to turn post-recall control arms into pre-recall control arms
Updated "P" blinker stalk (to enable European parking light behavior)
Upgraded OSRAM bulbs: Cool Blue Boost D2S, T4W LED for blinker and parking light, H7 LED for high beam
Carlinkit wireless CarPlay and iPhone MagSage charger installed inside armrest
4Motion + 02Y six-speed transmission retrofit
Peloquin front and rear limited slip differentials
Sachs SRE clutch
H&R front and rear coilovers
R32 "short rack" steering rack
R32 front subframe

IN PROGRESS UPGRADES
====================
PD150 engine being rebuilt by Matt Whitbread
+ 81mm BHW pistons
+ Colt camshaft
+ Upgraded connecting rods, valve springs, headstuds


SUMMER/FALL 2022 UPGRADES
=================
OEM/Bosal/Westfalia trailer hitch
Rear seat section with folding armrest
Webasto ThermoTop C coolant heater with Telestart wireless controller
Audi S3 all-aluminum front mounted intercooler (modified for PD150 front end)
PD150 radiator mount, fan mount, fans, AC condenser and radiator
PD150 intake manifold, EGR, ASV and all corresponding pipes
PD150 turbo intake pipe and MAF
Darkside hard pipe kit for PD150
Darkside coolant host kit for PD150
Skoda Climatronic controller with speaker, wiper control, defogger control and an extra temp sensor


VENDORS
========
Justin Grow (my Portland-based TDI mechanic)
MusicarNW (car stereo and many, many wiring projects)
DBW LLC (injectors)
Cascade German (many, many parts)
OEMVWShop (many, many parts)
ECS Tuning (many, many parts)
TuneMyEuro (BuzzKen exhaust)
Darkside Developments (snorkel and brake parts)
Kufatec (many, many wiring harnesses)
ClustersByLitke (ColorMFA cluster and miscellaneous parts)
Bluewater Performance (4Motion upgrade)
Double J Motorwerks (some maintenance)