PD150 ENGINE
============
I purchased a PD150 engine from Korwerks. I think I bought the last one they had for sale. However, upon initial inspection, it had a melted piston. Instead of finding oversized stock pistons, the decision was made to bore the block to accept larger pistons from a Passat. The engine was upgraded in the following ways:
81mm BHW Pistons
Colt Camshaft
Molnar Technologies Connecting Rods
ARP Head Studs
TBD Upgraded Valve Springs
The engine was rebuilt by Whitbread Performance. I had it cleaned up and painted. We also had the PD150 injectors refreshed. I also purchased the matching engine cover, but with an all-red TDI badge on it to match my existing all-red TDI trunk and grille badges.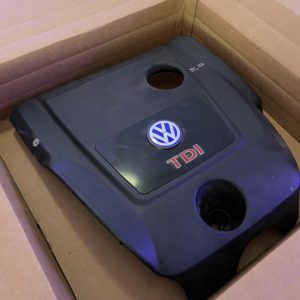 ENGINE BAY
==========
While swapping the motor, the plan is to convert the entire engine bay to a PD150 engine bay. The following parts have been ordered from Darkside:
Audi S3 Intercooler for PD150 ARL (Mk4 Platform)
Hard Pipework Kit for PD150 (ARL) – Golf Mk4, Bora & Seat Leon
Coolant Hose Kit for 1.9 TDi PD150 ARL Mk4 Golf / Bora / Seat Leon
Cambelt Facing PD150 Intake Manifold Kit for 1.9 TDi 8v
Additionally, the following parts have been acquired from Cascade German. In order to convert to a front mounted intercooler, all of the parts need to match from a PD150 car:
Radiator Mount – 1J0805588AA
Fan Mount – 1J0121207AA
Fans – 1J0959455R and 1J0959455S
Radiator – 1J0121253AC
AC Condenser – 1J0820413N
Horn Bracket
The upgraded intercooler front Darkside is a bolt-on fit with the rest of these parts.
EXTRAS
======
At the same time of the engine swap, a Webasto coolant heater will also be installed. The ThermoTop C was the model originally offered for MK4 cars, either aftermarket or OEM. At the time, Webasto also sold a MK4-specific installation kit. While this kit is no longer available, it can be replicated by purchasing the generic install kit and a wiring harness from Kufatec. The only thing missing from the original kit is a mounting bracket, so one will need to be fabricated. The install location for the pump is directly in front of the driver's side front wheel.